Trend Micro was co-founded by Steve Chang, his wife, Jenny Chang, and her sister, Eva Chen. Their aim was to develop antivirus software but it became much more. In thirty years, they became innovators in network defense, as well as hybrid cloud, small business, and endpoint security.
Trend Micro continuously innovates in an effort to stay one step ahead of the bad guys. They are dedicated to building a strong team of passionate people who work together to make the world safe for exchanging digital information, today and in the future. Those team members are fondly known internally as 'Trenders'. They hire 'Trenders' who care about the world and have the passion to want to make it a safer, better place, with amazing results: over 500,000 businesses use Trend Micro solutions to protect 250 million endpoints!
Among those solutions? Trend Micro™ Deep Security™ for Hybrid Cloud offers a full range of security capabilities in a single smart agent, which also happens to deploy FIPS 140-2 validated encryption from SafeLogic! With certifications meeting procurement requirements and product features perfect for U.S. federal agencies, it is gaining significant popularity in the public sector. Check out their comprehensive cryptographic certification story, including FIPS 140 validated crypto deployed on the server side, mobile endpoints, and in Java environments.
---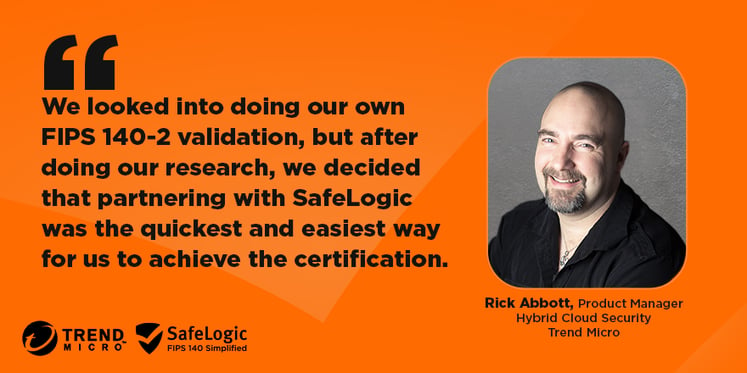 ---
FIPS 140-2 Validation Certificate #3125
FIPS 140-2 Validation Certificate #3125 - Security Policy
FIPS 140-2 Validation Certificate #3129
FIPS 140-2 Validation Certificate #3129 - Security Policy
FIPS 140-2 Validation Certificate #3414
FIPS 140-2 Validation Certificate #3414 - Security Policy
FIPS 140-2 Validation Certificate #4164