What is FIPS 140-2 (Federal Information Processing Standard 140-2)?
FIPS 140-2 is the second iteration of a standard established by NIST (the U.S. National Institute of Standards and Technology) to establish a minimum level of cryptographic security for deployment in the U.S. federal government.
Products (modules) that complete FIPS validation receive a publicly listed FIPS certificate on the NIST website.
Without this validation, NIST considers cryptographic encryption modules to be of unknown quality and places them in the same category as plaintext.
The industry is currently in transition from FIPS 140-2 (published in 2001) to FIPS 140-3 (published in 2019).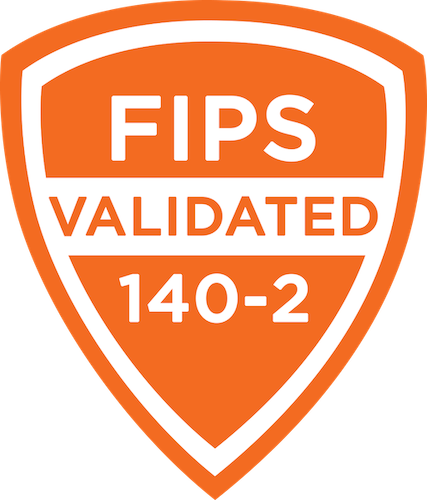 FIPS 140 is a Prerequisite for Many Security Standards, Including FedRAMP, CMMC, Common Criteria, and DoDIN APL
FIPS 140 has become well-known as a building block certification. Many security standards for government and regulated industries require FIPS 140 as a prerequisite
The FedRAMP authorization is underpinned by SP 800-53, Security and Privacy Controls for Federal Information Systems and Organizations, which requires FIPS 140

The CMMC (Cybersecurity Maturity Model Certification) program is based on SP 800-171, Assessing Security Requirements for Controlled Unclassified Information, and requires FIPS 140

Common Criteria (CC) Protection Profiles (PPs) require FIPS 140 certification for cryptography

Department of Defense Information Network Approved Products List (DoDIN APL) requires FIPS 140 validation

FISMA, HIPAA and HITECH healthcare regulations all follow suit and require FIPS 140 validation for any cryptography deployed within the solution.
NIST and its Canadian Counterpart Have Established Mechanisms for Validating Cryptography Modules and Issuing FIPS 140 Certifications
NIST and its Canadian counterpart CCCS (Canadian Centre for Cyber Security) teamed up in 1995 to establish the mechanisms for testing and certifying that the FIPS 140 benchmark had been met.
The CMVP (Cryptographic Module Validation Program) and CAVP (Cryptographic Algorithm Validation Program) are dedicated departments staffed by NIST and CSE employees. They focus on assessing FIPS 140 modules that are evaluated by independent, licensed third-party testing labs.
While the labs conduct functional testing and package and submit all the paperwork, it is the CMVP that ultimately reviews the testing results and issues the FIPS 140 validation.
How Many Times Will You Need to Revalidate your FIPS Certification to Avoid It Going 'Historical'?
FIPS validation is not a one-and-done proposition

Frequent changes in FIPS 140 requirements, security vulnerabilities and other changes can trigger the need for revalidation

Any changes to a traditional module will force revalidation. So can additional platform support or discovered vulnerabilities.

If your cryptographic module is not architected with FIPS validation in mind, ANY change to your product could require re-validation
If you don't go through the revalidation process when you need to, NIST will flag your certificate as 'Historical'. That means it is no longer Active and cannot be used for any new acquisitions by government agencies.
Only SafeLogic's Unique FIPS Validation-as-Service Expedites and Maintains Your FIPS Validation Over Time
Getting your own cryptography software reviewed, tested, validated, and certified by NIST can take as long as two years, not counting the time required to develop the software. SafeLogic literally cuts the time required to achieve NIST certification from two years to two months, then keeps your certification active over time with these three key capabilities.
To find out more about how SafeLogic can get you FiPS certified in two months, talk to one of our FIPS experts!
Does My Entire Product Need to be FIPS Validated?
Vendors can choose their "module boundary." That boundary may be the same as an entire product, or it may be a subset of a product (e.g., software library, printed circuit board, or integrated circuit chip). There is no requirement to make the cryptographic module include an entire product, especially as the standard only defines the requirements and testing of the cryptographic functionality. This is one of the biggest advantages of basing your FIPS strategy on CryptoComply. SafeLogic designed CryptoComply to have a small module boundary. As a result, SafeLogic customers can make changes to their products without impacting their FIPS validated module.
How Long does a FIPS Certification Remain Valid?
The standard period is 5 years unless the validated module has been modified, which can sometimes reset the clock. In other cases, technology can become obsolete, leading CMVP to deprecate algorithms or ban cryptographic techniques, which can force a certificate to be moved to the Historical List before the 5-year period expires. SafeLogic works to ensure that validations will remain Active as part of its MaintainCert service, regardless of these hurdles.
Are FIPS Iterations the Same as FIPS Levels?
Many people confuse FIPS 140 iterations (i.e., FIPS 140-2, FIPS 140-3) with FIPS 140 levels (FIPS 140-2 Level 1, FIPS 140-2 Level 2, etc.)
Iterations are published versions of the benchmark. NIST issued FIPS 140-1 in 1994, FIPS 140-2 in 2001, and FIPS 140-3 in 2019. As of this time, both FIPS 140-2 and FIPS 140-3 validations are both accepted as current and Active.

FIPS 140-2 certification defines four different levels of security, termed "Level 1" through "Level 4". These levels are intended to cover the wide range of potential applications and environments in which cryptographic modules may be employed. Typically only Level 1 applies to software modules since higher security levels incorporate requirements for hardware. FIPS makes no restrictions on Level requirements for specific applications.
What are the Different Levels of FIPS 140 Validation?
The FIPS 140 standard provides four increasing, qualitative levels of security. Each level covers 11 different areas of security. Level 1 is the least stringent and level 4, the most. Each subsequent level builds upon the requirements of the previous level. That is, Level 2 includes all the requirements of Level 1 plus other requirements. The key difference in the levels is the way physical and logical access to the cryptographic module is limited to ensure its integrity. These levels are clearly indicated on each validation certificate. The requirements, corresponding testing, and assurance for cryptographic algorithms are identical at all security levels.
What Am I Required to Do to Meet Government Regulations for Cryptography?
Identify your cryptographic module
Define the "cryptographic boundary". The boundary may be an integrated circuit chip, printed circuit board, a software library, or a complete hardware appliance. This module must perform at least one cryptographic function approved by FIPS 140. Once the cryptographic boundary has been defined, along with the supported platforms, documentation illustrating how the module meets the FIPS 140 requirements can be prepared.
Prepare documentation evidence
The first document that must be prepared is the Security Policy. At a high level, the Security Policy defines the cryptographic module and how it meets the FIPS 140 requirements. This document covers all the areas defined by the FIPS 140 standard. The Vendor Evidence documentation provides greater detail about how the module meets the areas of FIPS 140.
Submit evidence and the module to an accredited cryptographic module testing lab for testing
Once the evidence documentation has been written, this set of documents, along with the cryptographic module implementation, is submitted to the Cryptographic Module Testing Laboratory (CMTL) for testing. The CMTL will review the documentation and test results for any discrepancies or issues and report them back to the vendor.
Address any issues or questions from the CMTL
The vendor must satisfactorily address all the questions and issues raised by the CMTL. Once the CMTL is satisfied with the responses and the CMTL has completed their testing and finalized their test report, they will submit their findings to CMVP.
Pay the necessary fees
Paying the CMTL fees is the responsibility of the vendor. Also, the CMVP charges vendors a "cost recovery" fee for their validation services.
CMVP queue and review
After the report is submitted, the report resides in a queue until the CMVP is available to review it. The report then goes through the CMVP review, and the CMVP sends their questions and comments back to the CMTL. The CMTL will ask the vendor for assistance with many of these comments. After all comments are successfully resolved, the report moves into finalization, where the vendor must confirm several details. Finally, a certificate is awarded for the module. The publicly posted certificate includes a link to the Security Policy.
Revalidate as needed to maintain an Active certificate
Certificates need to be updated when there is a change to the module. Certificates also move from Active to Historical when they reach their "Sunset" date or when a transition in FIPS algorithm requirements impacts their status. All changes require the vendor to redo the process described above.
This entire process, including waiting for NIST to work through a backlog of certifications, has been known to take as long as two years. Not included is any time required to develop the cryptographic module in the first place.
SafeLogic's FIPS Validation-as-a-Service can reduce this timeframe from two years to two months.