HOW DO WE DISRUPT?
SafeLogic has used a combination of strategic moves to revolutionize how FIPS-validated encryption is deployed, certified, and maintained. Our partners see massive cost savings, offload the entire project, and get to market months ahead of their competitors, leveraging SafeLogic's software and hardware modules. Here's how it's done.
CONTROL THE TECHNOLOGY
FIPS 140 is the benchmark established by NIST (the U.S. National Institute of Standards and Technology) to standardize and certify a minimum level of cryptography for deployment in the U.S. federal government. Without this validation, encryption modules are considered to be of unknown quality and placed in the same category as plaintext. Essentially, when FIPS 140 validation is required, it is binary - either the certification has been achieved or it has not. If the encryption module has not been tested and proven to meet the minimums, it is treated like it doesn't exist at all. Because government systems rely so heavily on cryptography for data protection and FIPS 140 validated encryption is used in all Sensitive But Unclassified (SBU) federal operating environments, there is a lot riding on the enforcement of these standards.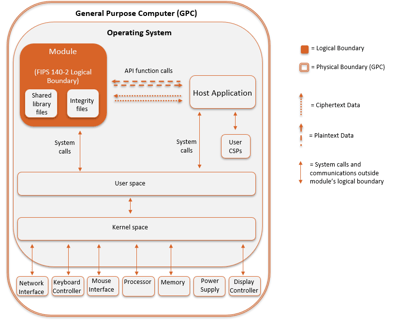 FOCUS THE VALIDATION
We purposefully keep the FIPS 140 validation boundary extremely narrow. Anything that falls under the scope of the certificate is under scrutiny and can trigger a revalidation if it breaks, is found to contain a vulnerability, or is altered. As an extension of our first tactic, the validation boundary excludes your proprietary code and is isolated from your product so that you can update and iterate releases independently from FIPS 140 requirements. Our CryptoComply modules are strictly limited to core cryptographic functions, ensuring that only the most critical, security-relevant changes will necessitate re-validation.
ENSURE COMPATIBILITY
For the ease of integration, CryptoComply software modules are designed for compatibility with popular open source architectures. We offer drop-in replacement modules for OpenSSL, Network Security Services, Libgcrypt, and JCE (Java Cryptographic Extension) providers such as Bouncy Castle, SunJCE, and RSA BSAFE Crypto-J. SafeLogic also supports cross-platform APIs, as a single code base can provide portability and the ability to deploy on several different operating environments with the same module. This keeps the FIPS 140 validation in compliance while your team deploys CryptoComply on various platforms or within various products.
Hardware versions of CryptoComply are developed under similarly strict guidelines in partnership with the leading HSM manufacturers in the world. They have been built to maximize flexibility in deployment while retaining the same isolated validation boundary and ability to plug-and-play.
LEVERAGE EFFICIENCIES
SafeLogic extends these efficiencies even further since we provide both the cryptographic module and the validation. On-going support costs are greatly reduced and duplication of effort is eliminated, because CryptoComply is centrally maintained by SafeLogic on behalf of customers, instead of each allocating time and resources to their own. And best of all, instead of the traditional path to certification, we will deliver in less than 8 weeks.
Check out this comparison timeline - do you really want to do it yourself, the traditional way?