BlackRidge products are used in enterprise and government computing environments, the industrial Internet of Things (IoT), and other cloud service provider and network systems. BlackRidge was founded in 2010 and initially funded by the U.S. Department of Defense to commercialize our patented network security technologies.
Their breakthrough technology, BlackRidge Transport Access Control (TAC), authenticates user or device identity and applies security policies across networks and cloud services before application sessions are established. Underlying BlackRidge TAC is their patented First Packet Authentication™ which conveys and authenticates identity in the "first packet" of a TCP network session request.
This fundamental invention addresses a security gap in how the Internet operates: the inability to authenticate network traffic sources. Without authentication, unidentified and unauthorized users and devices can scan, probe and access networks and cloud services. This security gap is exploited in all cyber-attacks through the process of network scanning and reconnaissance, and it has been further exposed and magnified by cloud services, mobile connectivity, and the Internet of Things (IoT).
BlackRidge solutions are deployed in enterprise networks, data centers, and by Cloud service providers to:
- isolate, and protect servers and cloud services from unidentified and unauthorized users.
- stop cyber-attacks by blocking scanning and reconnaissance - you can't attack what you can't see.
- segment networks and isolate systems to reduce risk and meet compliance requirements.
After BlackRidge Technology's FIPS 140-2 validation was posted, they published a guest blog post from SafeLogic's Walter Paley, titled 'The Scoop on FIPS 140-2' to add background about the benchmark. Check it out!
---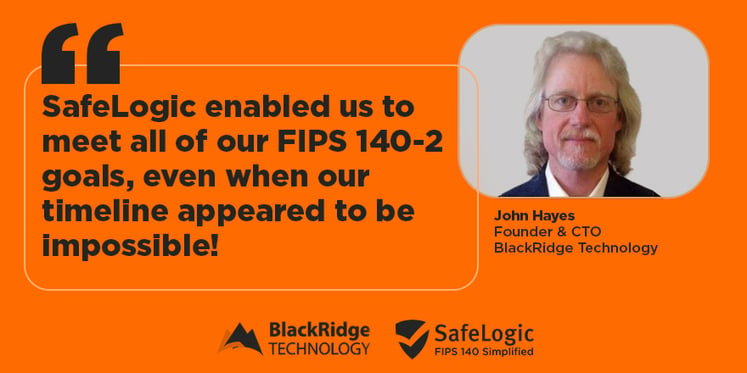 ---
FIPS 140-2 Validation Certificate #3151