Ray Potter Will Join Internet of Things Experts from HP, Cisco, AMD, Samsung and Others on March 5, 2015 at IoT Summit in Santa Clara
Palo Alto, CA – March 4, 2015 – SafeLogic, the company re-inventing how encryption is delivered, announces that founder and CEO Ray Potter will be speaking at this week's IoT Summit, a SensorsCon event. On Thursday, March 5, 2015 at 11:15 AM local time, Potter will present a session titled "Secure IoT… Or Else". In this talk, attendees at the Santa Clara Convention Center in Silicon Valley will hear thought leadership from a top speaker on the Internet of Things on the growing pains of the industry.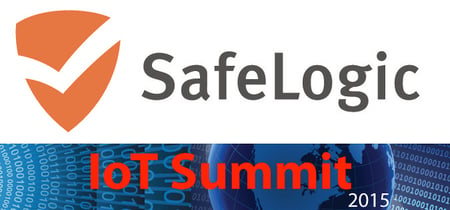 From the conference guide:
The Internet of Things faces a distinct conundrum. IoT devices once enjoyed the blissful benefits of security by obscurity. Today, as the market evolves, the devices are rapidly becoming ubiquitous and are being deployed in contexts that are of curiosity and intrinsic value to hackers. In this talk, SafeLogic CEO Ray Potter will discuss the delicate balance between innovation and security standardization in IoT.
Potter is joined on the two-day conference agenda by thought leaders from top companies such as Gino Zucco, Director of IoE and IoT Strategy at Cisco, Alan Messer, Vice President of Advanced Software Technologies at Samsung, and Mei Jiang, Head of Strategy and Business Innovation & Incubation at Hewlett Packard.
"The Santa Clara Convention Center will be the epicenter for IoT strategy this week, and I'm extremely excited to be part of it!" said SafeLogic's CEO.
In 2013, Potter introduced SafeLogic's CryptoCompact product for the first time publicly at the CTIA MobileCON in San Jose. CryptoCompact was designed for use in constrained environments, including Internet of Things (IoT) devices, wearables, and industrial appliances. Since then, SafeLogic's CEO has spoken at a series of major events, including the RSA Security Conference, CTIA Super Mobility Week, (ISC)2 Security Congress, Gartner, IEEE, and various other IoT and Wearable conferences.
For more information on this session, SafeLogic's products and services, or Ray Potter's other upcoming speaking engagements, please e-mail Walter Paley, Director of Marketing, at Walt (at) SafeLogic (dot) com.
About Ray Potter
Ray Potter is the CEO and co-founder of SafeLogic. Previously, Ray founded Apex Assurance Group and led the Security Assurance program at Cisco Systems. He has been recognized as a thought leader in next generation security technologies, speaking at the (ISC)2 Security Congress, RSA Security Conference, Cloud Security World, CTIA MobileCon and Super Mobility Week, Wearables DevCon, and the International Cryptographic Module Conference, among others. Ray lives in Palo Alto and enjoys cycling and good bourbon, although definitely not at the same time.
About the IoT Summit
IoT Summit is a forum to present, highlight and discuss the latest products, applications, development, and business opportunities in the Internet of Things. The market for IoT, sensors, wearables, Cloud, and related technologies is expanding at a phenomenal rate. The conference brings together researchers, developers, and practitioners from diverse fields including scientists and engineers, research institutes, and industry. The IoT Tech Summit is the 4th event produced by SensorsCon and is presented by the International Society for Quality Electronic Design.
About SafeLogic
SafeLogic's flagship products, CryptoComply for Mobile and CryptoComply for Server, are standards-based cryptographic engines designed for use in servers, workstations, appliances, and mobile devices. These modules have been fully validated to FIPS 140-2 standards and offer drop-in OpenSSL compatibility, a variety of connectors to accommodate unique product architecture, and instant compliance for federal deployments to SafeLogic customers.
Even better, SafeLogic's modules include RapidCert, the industry's only validation service that drastically accelerates the process, requires zero engineering effort, no interaction with testing labs, and a fixed cost. SafeLogic's customers include Oracle, Yubico, and Weaved, among a growing list of the most influential and innovative companies in technology.
SafeLogic is privately held and is headquartered in Palo Alto, CA.
# # #