Bricata, established in 2014 and headquartered on the Maryland side of DC, distinguishes itself from other network security tools because it combines unparalleled network visibility, full-spectrum threat detection, true threat hunting, and post-detection actions together into a single, easy-to-use and easy-to-manage platform for enterprises who need comprehensive network protection. Bricata provides granular network visibility through a combination of SmartPCAP and the generation of rich metadata. It employs multiple detection techniques, to include signature detection, stateful anomaly detection, and artificial intelligence which simultaneously optimizes detection rates and minimizes false alerts. Bricata's auto-populated, self-managed threat hunting environment provides you with granular insight into everything that is transpiring on your network, investigate alerts to fully understand threats and their promulgation on your network, and find hidden threats that didn't trigger an alert. Bricata also gives you options to remove threats from your network and to provide valuable guidance to endpoint cybersecurity solutions to eliminate them even when they aren't on your network.
Bricata has been proven to speed incident resolution by eight times by reliably detecting threats and providing the context necessary to get to the truth quickly and act. SafeLogic specializes in speed as well, so the mutual fit was strong when it came time for John Trauth and his team to add FIPS 140 validated encryption capabilities to their product.
Bricata was backed by strong venture firms like Edison Partners and included In-Q-Tel, the strategic investor that accelerates the development and delivery of cutting-edge technologies to support the mission of the U.S. Intelligence Community, before being acquired by OpenText in November 2021.
---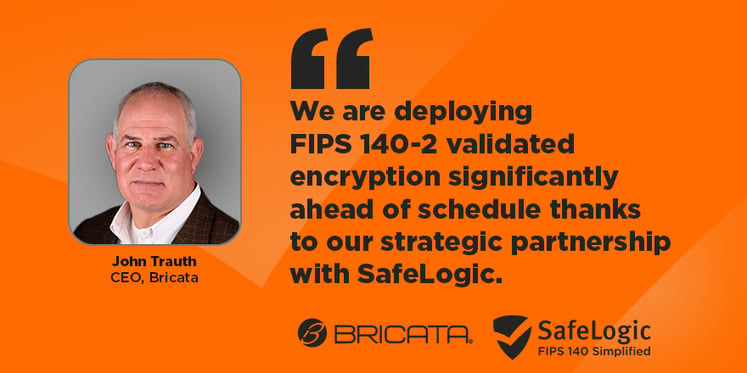 ---
FIPS 140-2 Validation Certificate #3325